The NUUD Rose Vibrator: A Petal-Soft Pleasure Guide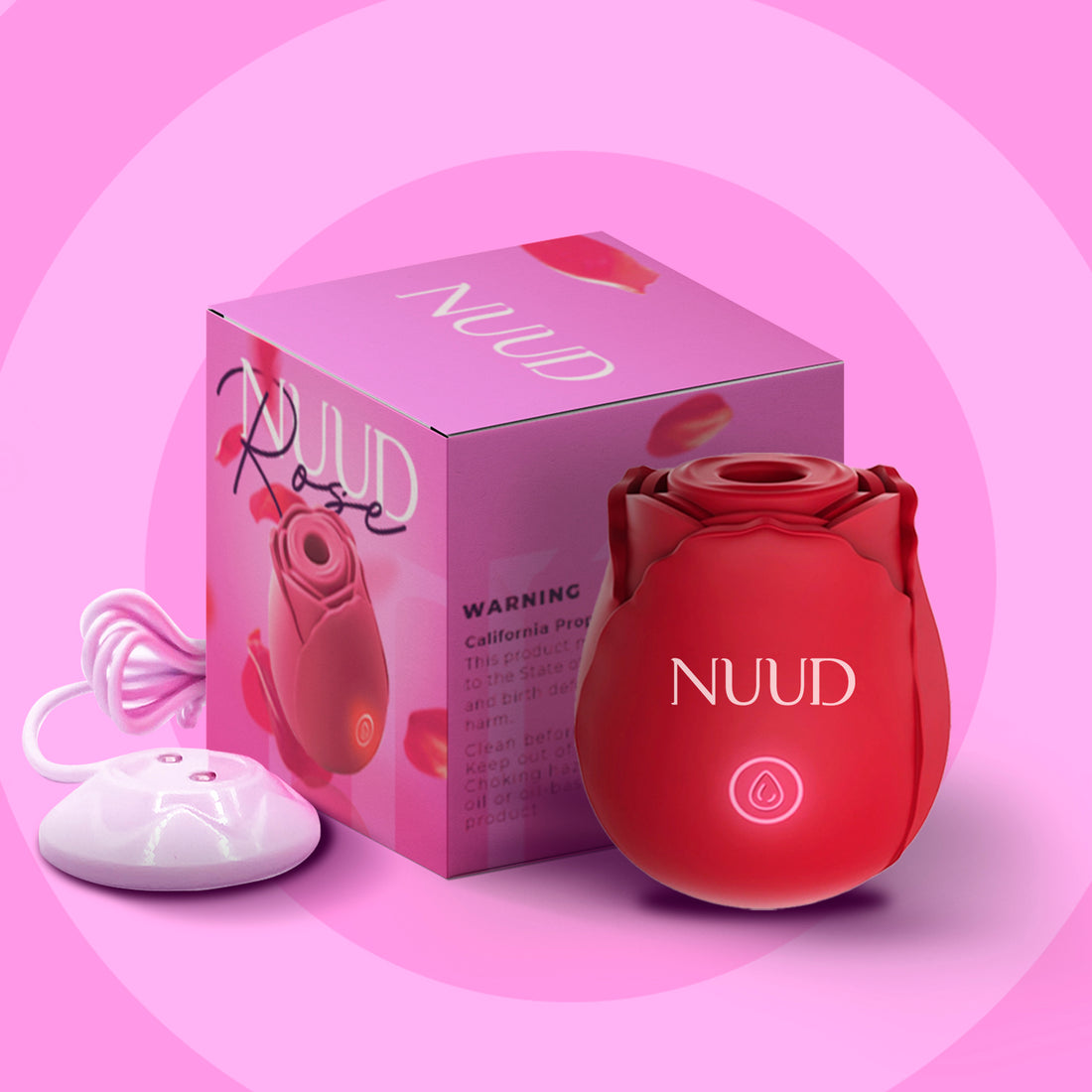 Welcome to the world of enhanced intimacy, a world where desire is celebrated, not concealed. Allow us to introduce you to the NUUD Rose Vibrator, a cutting-edge device that transcends mundane notions of pleasure, coaxing you into a realm of unparalleled ecstasy. At NUUD, we're not just about innovative products; we're on a mission to empower individuals to embrace their sexuality fearlessly, igniting a revolution in the way we perceive and experience pleasure. With the NUUD Rose, discover a tool that embodies our ethos, inviting you to explore new dimensions of satisfaction, connection, and self-discovery.
What is a Rose Vibrator? 
The NUUD Rose Vibrator is a discreet and elegantly designed clitoral vibration and suction pleasure enhancer in the shape of a beautiful rose. It features 10 speeds of suction and vibration, ensuring an indulgent and customizable experience. This waterproof device comes with a magnetic USB charger, allowing you to embrace the freedom to explore passion wherever your desires take you.
How To Use The Rose Vibrator 
Lubricate for Silky Smooth Pleasure: 
Before embarking on your journey with the NUUD Rose, apply a water-based lubricant to your clitoris, vulva,or erogenous zone of choice and the rim of the toy. Opt for a suitable water-based lubricant, as silicone-based products might not be compatible with the Rose's soft silicone material.. Lubrication also facilitates a gentle seal, intensifying the sensations and creating a more immersive experience.
Unveil the Sensations:
Long press for three seconds to turn on. Activate the Rose with a gentle setting to ease into the experience. Familiarize yourself with the toy's control buttons, allowing you to navigate through various speed and intensity settings effortlessly.
Find the Perfect Position:
Carefully position the NUUD Rose over the clitoris or any other erogenous zone you wish to stimulate. Open your labia gently with one hand and position the Rose's opening over your clitoris with the other hand. Allow the Rose's gentle suction to embrace and tantalize your clitoris, exploring the delights of dual stimulation. The toy's gentle suction and vibration offer a unique blend of sensations, for that mind melting satisfying experience.
Utilize Various Play Methods:
The NUUD Rose isn't limited to just one form of stimulation. Experiment with different techniques, such as nipple play or stimulation of other erogenous zones. Its soft body safe silicone material and versatile functionality allow for diverse explorations, catering to new experiences and oOoOo ahhH YEA feelings.
Breathe and Enjoy the Experience:

Using the rose toy is a breeze once you get the hang of it. Don't stress it and take your time to explore your body and find what really gets you going. Deep breathing not only enhances the overall experience but also contributes to a more intense and fulfilling climax. Allow yourself to be fully present and immersed in the moment. Just remember ladies with no refractory period this rose can be the key for O after O after O after… you get the point.
Cleaning the Rose Vibrator:
After the crescendo of delight, know that it's essential to keep your rose fresh, just like any other blooming flower. Cleaning your NUUD Rose Vibrator is a simple process. Rinse it with warm water and use a fragrance-free, antibacterial soap or toy cleaner. Dry it thoroughly, and stow it away on the charger or in the included bag to have a clean and ready Rose for your next adventure.
Charging the Rose Vibrator:

Long hours of wonder need a reliable fuel source, and our NUUD Rose does just that. The Rose Vibrator comes with an easy-to-use magnetic charging cable, assuring unrestricted journeys into your world of succinct pleasure. A complete charge takes about 2 hours, leading to an indulgent session of sensational pleasure. The glowing LED indicator will let you know when your rose blooms back to full energy, ready to transport you to the garden of pleasure.
Final Flourish
So, there you have it, the comprehensive guide to your very own pinnacle of pleasure - the NUUD Rose Vibrator. Beyond being just another intimate device, the NUUD Rose is a celebration of intimacy, passion, and self-discovery that fits in the palm of your hand. This elegant, petal-soft tool invites you to rewrite the rules of pleasure, surrendering to an intoxicating dance of ecstasy. Remember, the NUUD Rose isn't a mere product; it's an experience, and like every true delight, every journey unfolds uniquely to each user. So, take your time, be kind to yourself, and enjoy discovering what feels incredible for you.
Explore the Ecstasy
Are you prepared to unlock a new realm of ecstasy? Do you yearn for that tingly sensation and to let your desires bloom freely? Psst you read the entire article so take 25% percent off the order of your NUUD Rose using the code REDROSE. Your path to this sensual wonderland is just a click away. The NUUD Rose Vibrator is ready to lead you on an exquisite journey whispering promises of rapture and self-discovery.
Subscribe to our newsletter and receive a selection of cool articles every weeks